As the NASDAQ Composite hovers near record highs, coronavirus cases in the US have topped 3 million. Dr Anthony Fauci, the country's top authority on infectious diseases, has warned against taking comfort in the "false narrative" of a declining death rate–going against the apparent optimism of President Donald Trump, a number of his top officials and some governors. Meanwhile, ICUs in 56 hospitals in Florida–which has seen record-breaking increases in the number of new cases–reached maximum capacity.
Cleveland Federal Reserve President Loretta Mester warned economic activity is slowing down in her area. Both the IMF and Goldman Sachs recently took an axe to their forecasts for US economic growth this year.
Some of the recent optimism in the financial markets was due to strong consumer spending, which accounts for about three-quarters of GDP. However, as unemployment benefits expire this month for more than 19 million Americans, we will start to see the data deteriorate.
Yesterday, the tech-heavy index scored a new all-time high, but had backed down by the end of trading.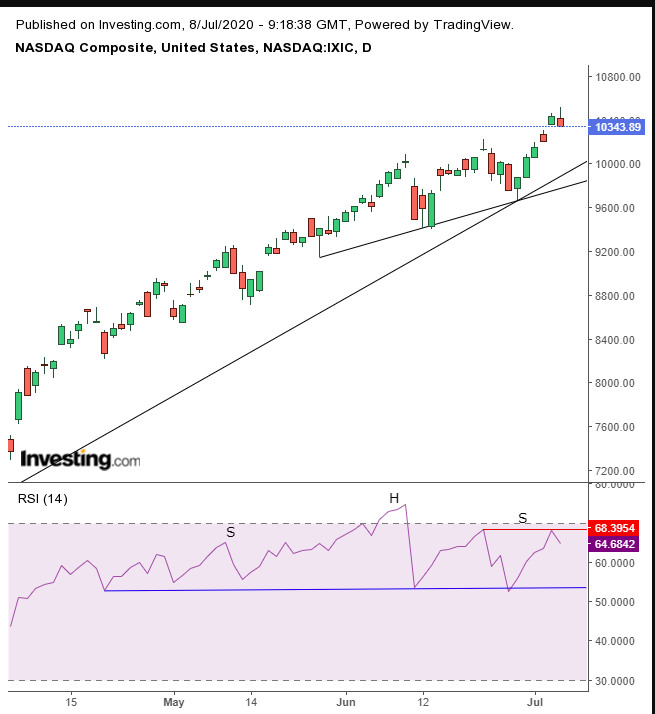 Daily NASDAQ Technical Chart
Right before someone dies in a horror film, there's usually a moment of optimism. He discovers an escape route. The audience gets their hopes up and then the serial killer gets the teenager. That may be what happened yesterday.
Bulls saw Monday's show of force and felt confident of easy pickings. Only then, the tide turned and they ended the day hungry and licking their wounds. Tuesday's trading created a shooting star pattern, which can be summed up as reflecting false hope. Bulls gave it a go, but were pushed back and forced to retreat. The fact that it happened after a rising gap also sets the NASDAQ up for an Island Reversal.
To clarify, the index is still very much within an uptrend. However, the earlier congestion has shown for over a month that the picture is not clear, which raises the chances of at least a corrective dip. The breakout that followed may have been premature, given that it was built on a streak of stronger-than-expected data. Some may have misinterpreted the numbers as being nothing more than a dead-cat bounce after the worse recession since the 1930s.
The RSI provided multiple negative divergences. First, its lows were flat and did not support the rising lows the price was marking. Second, it failed to return to its own recent record highs, having found resistance at the June 23 peak. Overall, the NASDAQ might be forming a H&S top, which suggests a price reversal that will follow momentum indicators lower.
Conservative traders would wait for a pullback to provide evidence of accumulation and rejoin the uptrend.
Moderate traders would go long on dips to maybe the 10,000 psychological level.
Aggressive traders might risk a short and ride the correction down.
Trade Sample – Aggressive Short
Entry: 10,420 – upon a rally
Stop-Loss: 10,520 – above all-time high
Risk: 100 points
Target – above psychological round number
Reward: 400 points
Risk-Reward Ratio 1:4